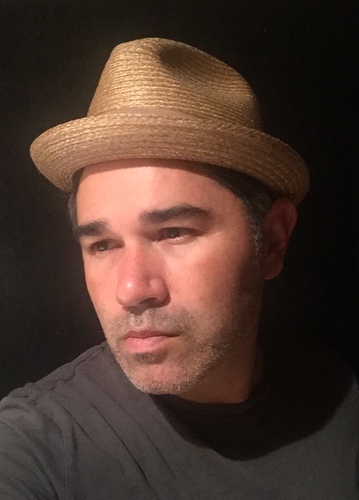 BIO
Juan-Carlos Perez is a visual artist who was born in Juarez, Chihuahua, Mexico and immigrated to Los Angeles, California at an early age. He later moved to Illinois to pursue a degree in Fine Arts at the School of the Art Institute of Chicago. Juan-Carlos lived in Chicago Illinois for 21 years as practicing studio artist, arts educator & cultural worker. His art practice has given him the opportunity to work with many diverse communities though out the city of Chicago, Detroit and West Africa. His work has been on view at numerous art spaces and galleries throughout the United States and most recently at the National Museum of Mexican Art in Chicago. Juan-Carlos is a recipient of the 3ARTS Chandler Award in the category of teaching arts. He is currently living in Long Beach California.

Through the use of 2D, 3D, & Installation work, Juan-Carlos creates intense landscape spaces where visual & complex relationships revolving around the themes of politics, immigration, violence, racism, religion (etc) are interwoven with under current histories. These spaces create a context where different perspectives, ideals & concepts confront and challenge one another.

Juan-Carlos is part of The Chicago Act Collective, a group of socially & politically engaged artists that create many forms of resistance through the use of art that promote collaboration and dialogue across multiple communities that reflect and respond to current and local needs identified those directly impacted.

As an independent teaching artist, Juan-Carlos Perez partners with arts organizations such as Chicago Arts Partnerships in Education (CAPE), Chicago Public Schools, park districts, community centers, etc. teaching a variety of visual arts which include: rigorous arts education integration, modern arts, cultural arts, public art and mural work: painted, mosaic & bricolage.